This is the new 2021 Ford Mustang Mach E, and it's a different Mustang than you're used to. There's no V8 or even a V6. It's fully electric and more obviously, it's an SUV, the Mustang coupe, the Mustang convertible, they're still on sale, but behold, the newest member of the Mustang family, an electric performance SUV.
So let's talk Mach-E. First the basics. There are four versions of the Mach-E. The base model starts around $41,000. It has 266 horsepower, and it will do about 250 miles of range. The top end version is called the GT it has a starting price of around $61,000. It has 480 horsepower. And about the same range figure in the middle there is a version of the Mach-E that does up to 300 miles of range, which is the Mach-E's maximum range figure that puts the Mach-E in direct competition with the Tesla Model Y which starts around $43,000 with its performance version starting around 52,000. Now the Model Y has better range between 303 125 miles and its base model is a little quicker. But the Mach-E is a serious competitor, especially in mid and top level trends with the Model Y, at least on paper. For now, you're probably wondering why why did Ford come out with an electric SUV and call it the Mustang. My theory is that the Mustang brand name is one of the strongest that Ford has. So they probably figured it was essential in fighting Tesla, which has developed such a strong brand name itself and which has become so popular in recent years. So today I'm going to review the Mach-E and we'll see how good of a challenge it really is. First, I'm going to take you on a tour of the Mach-E and show you all of its quirks and features.
I'm going to start the crux and features of the Mach-E by getting in where there are a lot of quirks to discuss starting with the key and you buy one of these and you get one key fob here it is pretty standard, just one, but Ford doesn't think that anybody is really ever going to use it. That's because you can download an app to your phone that syncs up with the car and lets you do pretty much everything. Lock the doors, unlock the doors, start the car, check your mileage, all sorts of different things. Most people will just have their phones on them. That's their key and they won't ever need to use the key fob. It's interesting. But getting into the muck, the Mach-E gets far quirkier than that. You walk up to the door with your phone in your pocket to unlock the door, you go for the door handle only to find it there isn't one instead, you have a little button on the side of the car and then a little piece that sticks out under that you push the button and then you pull on this piece. And that's your door handle situation in this car, a button and like a little handle that you can pull to open the door but it gets even quirkier still, because when you push the button to open the door, you can see the door opens to sub optimal point no further, you're supposed to pull it the rest of the way.
But the quirky part is you can't close it when it's in this position. That's because when the door opens, a little kickstand comes out underneath the door to make sure that you don't accidentally open the door a little bit and then slam it and slam your fingers in the door so it opens up an inch and doesn't allow itself to be closed. Once you open the door the rest of the way the kickstand retreats back into the door. And then you can shut it just like normal. So you open the door you can't close it unless you open it more. And then you can close it fully, very quirky. And the rear door is even quirkier than the front. You walk up to the back door again no door handle you have just a little button that you can push to open the door and it operates the same way you push the button the door pops out and it doesn't let you Closing unless you open it all the way. But how do you do that there's no handle here for told me when they were developing this car, they experimented by putting a handle in back just like up front. But they watched how people actually opened the door and discovered that people just reach in for the back door and open it up like this, instead of actually using a door handle. So as a result, you open the door, and then you're expected to just reach your hand behind the door panel and open it up. And to make that a little easier and cleaner Ford has placed a rubber pad in this exact spot where you're supposed to reach in and open up the door. So not really a door handle in the truest sense. But you do have a rubber panel guiding you wards where you should be opening the door. And then you can climb into the back of the Mach-E. And by the way, if you're into electric cars, you might be wondering about aerodynamics, and that little handle that sticks off the front door because any protrusion on the outside of an electric car could cost you miles of range. However Ford has assured us that the aerodynamics of the Mach-E are unaffected by this little handle. That's because of the mirror directly in front of it that blocks all the wind, I guess. And so the handle doesn't actually cost them a penalty in terms of range or aerodynamics, they said handle on handle off, it would be exactly the same because the mirror is right in front of it interesting. Next up, I'm gonna get into the market here in a second, but there are just so many quirks to cover in this door vicinity.
Next I want to talk about keypad entry. You can see there's a little number pad that's located here on the side of the car above the door popper button. Ford is famous for this, they've always had keypad entry on their vehicles, you can enter a little code to unlock the doors. That way, you don't have to bring the key with you everywhere. That could be especially helpful with the Mach-E because if your phone dies, that dead phone is actually your key. Thus with a keypad, you can still get in the car, even if your phone is dead. So that's nice to have. Also the keypad entry goes away and turns black if you're not approaching it or touching it so that it's hidden and there's aren't always numbers on the side of your car. But by far the coolest thing with this whole phone app unlocking the car future thing is the controls you have with your phone app. You can lock and unlock the car, like I mentioned, you can pop open the trunk or you can put the windows up and down and with the touch of a button, have all the windows rolled down. All this can be done using your phone from the outside of the car, or you can put them up with the press of another button in the app to roll up the windows and they'll roll up automatically – all controlled from your phone. Now that's a pretty cool Quirk.
Anyway, we climb into the Mach-E finally and the first thing you notice undoubtedly is this massive center screen stuck onto the dashboard. Clearly inspired by the center screen in Tesla Model S and X. This screen is massive – 15.5 inches to be exact. It's a huge screen. And at the top you can see there's a picture of some guy who is this guy? Well, if you click on him, that's your driver profile that's connected to your phone. So assuming you've set it up on your phone, it knows based on your phone who's getting in the car, and then all of your settings that you might have for the infotainment screen or other items in the car come up with your driver profile. When you get in now, just in case you aren't that guy on the screen, you can change the picture in your driver profile. To do that, you simply take a picture of yourself using the Mach-E app fr your car. Then you can install it as your picture in your profile that way every time you get in, you are at the very top of my center screen looking cool and reminding yourself as you drive this car of just whose car it is. Yeah, that's right. But anyway, the cool thing about this driver profile situation is like I said it will tailor the infotainment screen various settings to each individual driver profile, you can have up to five and here's the really cool thing, Ford told us the car will also tailor its range estimate based on the driver profile. So if for instance you're a pretty aggressive driver and you deplete your range faster than for example your spouse, then when you get into drive the car it will show a lower range estimate for you than it would for your spouse because it is learned that your spouse is a more reasonable rational driver and you're more aggressive. That is a pretty neat thing. The car will also tailor its range estimate based on where you're going. So if you have a navigation destination set and you're going like into the mountains, it will know about the elevation change and it will adjust its range estimate accordingly. Meanwhile, if you're coming down from the mountains, maybe going back home after a ski trip, it will give you a longer range estimate than if you were going up even though it's the same distance because it knows that going down obviously won't use as much battery power. That is a pretty cool touch. But anyway there are several interesting quirks and features with this giant center screen. My very favorite is the dial on the center bottom. This is The volume dial and it's there because customers repeatedly told Ford they wanted volume to be a real dial. And that's something on a screen, they wanted to be able to twist a dial. It's just far much easier and tactile that way and so Ford acquiesced and gave them this dial. But the way they've done it is quite interesting. This dial is actually bonded to the screen, it's not screwed in, there's no holes in the screen, it's just bonded on there. Now the screen is set to adjust when it's tapped by a finger your fingers touching little icons on the screen. So on the backside of this dial, there are fake fingers, not actually fingers, of course, but the same basic material and substance, tricking the screen into thinking that a finger is touching it, even though there's actually a dial placed on top. That is a very interesting way to do it. And I also love that in the center of the volume dial, you have the radio on-off control, you tap it, and then it has this cool ripple graphic to let you know that you're turning on or off the radio. That's a neat touch and that dial is crazy. Next up is another interesting touch in this screen. If you go to for instance, turn on the heated seats, you can see there are different levels, and you can slide your finger up or down. But let's say you go over a bump and your finger slides off the precise spot where you're sliding up or down, well, it will still recognize what you're trying to do. And it will let you slide up or down. Even if your finger has sort of drifted away a little bit. That's a nice touch. If you don't want to be constantly looking at the precise spot on the screen where you have to touch the screens – Ford gotcha. It knows what you're trying to do.
Next up an interesting setting in the screen called the backup start passcode. It's important to set this up because this will allow you to start the car if your phone is dead – your phone that you're using is the key. You'll have a passcode in the screen that will turn on the car, just like you add a passcode on the door panel that let you get in, meaning that even if your phone is dead or lost, you can still enter your MachE and turn it on. And then once it's on, you can use that to charge your dead phone. That's a pretty cool idea. Now the next interesting thing in this screen is the drive modes, you press the little car icon in the upper left corner, and you're taken to a screen that shows you three different drive modes. Now the standard mode is called Engage – that's sort of the basic normal sort of sporty sort of economical right in the middle mode. Next up you have Whisper which as the name implies, is the quiet mode and also the most economical and least exciting of the drive modes. And then the final one is called Unbridled, which is a play on the Mustang. It's a horse, it's unbridled, and that's your performance mode, your sport mode, the most exciting drive mode that you can be in. Those are the three that you can choose from. Now, the cool thing here is that when you choose between the three different drive modes, it changes what you see in this gauge cluster screen. This is a 10 inch screen mounted directly behind the steering wheel and if you change drive modes, the gauge screen changes. However, you have to be moving to actually see the change. In unbridled mode, the screen looks fairly normal, but once you accelerate, the unbridled graphic starts to go across the screen to show that you are in the sportiest mode. But as you slow back down, the graphic goes away until you start accelerating again. Same thing for whisper. As you accelerate, the graphic changes to let you know that you are in whisper mode. So the graphic on this gauge screen changes with the drive mode, but you actually have to be driving to see it. That is a neat little touch. Now it's worth noting that aside from that stuff – the different drive modes, the gauge cluster screen is very simple and doesn't have much on it. You only see for instance, the speed you're going, the gear you're in, how much charge you have left, the direction you're going, your mileage and that's basically it. It's not some fancy very configurable gauge cluster like some cars have. This is clearly a shot at Tesla which only has the large center screen and you always have to look over to get some pertinent information when driving. What Ford has done is that they've given us the big center screen, but there is also a simpler gauge screen that tells you pertinent information you want to know without having to look over to the center screen and I like that feature. Next up is another challenge to Tesla. There is a little sort of small screen mounted directly behind the steering wheel on the column itself. That's actually not a screen it hides a camera system that can monitor you while you're driving. And the reason for that is it's for the upcoming self driving technology that Ford says this car will have. This feature is expected to be coming in about six months and the camera mounted there will monitor you as your drive to make sure you're paying attention. As long as you're looking forward eyes wide open. You don't have to tap the steering wheel while the car is driving for you which is an annoying feature/requirement for Tesla's Autopilot. So it will steer, accelerate, brake all the way to a stop and you can just sit there never touch the steering wheel because the camera is keeping an eye on you and making sure you're looking ahead. Now that is pretty cool and marks another step closer to real self driving fun.
As we move beyond the screens of the Mach-E, probably the biggest most notable feature is on the dashboard. It's a giant speaker on the driver side all around the gauge cluster screen, it's really huge. And then over on the passenger side, it's even larger, this giant dashboard speaker. As an added bonus, you get the Bang and Olufsen sound system package in this car. Next up we move into the center console and you can see the dial for the gear lever just like in other Ford models, you turn on the Mach-E and it starts in park but then you twist the dial to go into reverse neutral or drive. Most foreign vehicles have this and it's pretty easy to use. Now also worth noting in the center console just behind the dial, you have this armrest you can push up and out of the way, or you can push it down and into place for use as your armrest. Below that you have a little storage area that actually isn't all that little. You roll back the top and then you have a pretty good sized area where you can keep stuff and of course in this car you also have a glovebox with a decent interior storage in there. Next up another interesting quirk is the interior door handle. It's right on the door as expected and operates how you'd expect. You simply pull it back and then the door opens. Seems a bit too strangely conventional when compared to the outside door handles. Another quirk worth noting is above you. When you're sitting in this car, you have this giant glass panel which is absolutely massive and covers basically the entire roof. Unfortunately, it doesn't open. Also you can't make it darker or tinted with the push of a button like in some other cars, but it's there and it's huge and it's all glass. Furthermore, you can look out of it and see the sky in a really wide cinematic view.
Next up as we move on to the outside of the Mach-E, I want to talk about the style and design. One noticeable touch on the outside is that there's no door handles because the door handles (those little buttons that I showed you earlier), the entire side of the car is free of door handles. This gives the Mash-E a pretty sleek and cool look, making the whole thing look cleaner, simpler, since you don't have to stick ugly door handles out of the door and break up the lines.
Next up, we move on to another cool design element in the Mach-E and that would be lighting. Starting with in back you can see it has these three vertical bars of light and just like Mustangs have had for years. That's carried on to the Mach-E but what's much cooler here is the turn signals which sort of sweep across the back sequentially just like the Mustang coupe and convertible sports car models do. That's carried on to the Mach-E as well. And frankly, I think it looks pretty cool. Same deal upfront you also have sweeping turn signals, although in this case, you don't have the little vertical bars to break them up. So it just sort of sweeps across the top of the headlight, but again, a pretty cool look and very noticeable on the road. Now speaking of the front of the Mach-E, there are different designs and trim materials you can get up front. This nicer versions have a sort of this piano black finish going around what would have been the grille, which gives it a classy look. However in the lower trim version of the car, you can see more plastic and not quite as upscale looking. That's sort of the differences in front. One other interesting item up front is the grille shutters below the front bumper. They can open and close depending on what's better for aerodynamics and free range at that moment. They are active grille shutters that can close or open depending on the current driving situation. Next up, another item worth noting up front is the Mustang badge. You can see the typical horse badge but it has sort of these black lines running through it. This is sort of like a cyber Mustang. Ford said they kind of reimagined what the Mustang would be like if it was electric and made the Mach-E badge sort of a futuristic electric horse.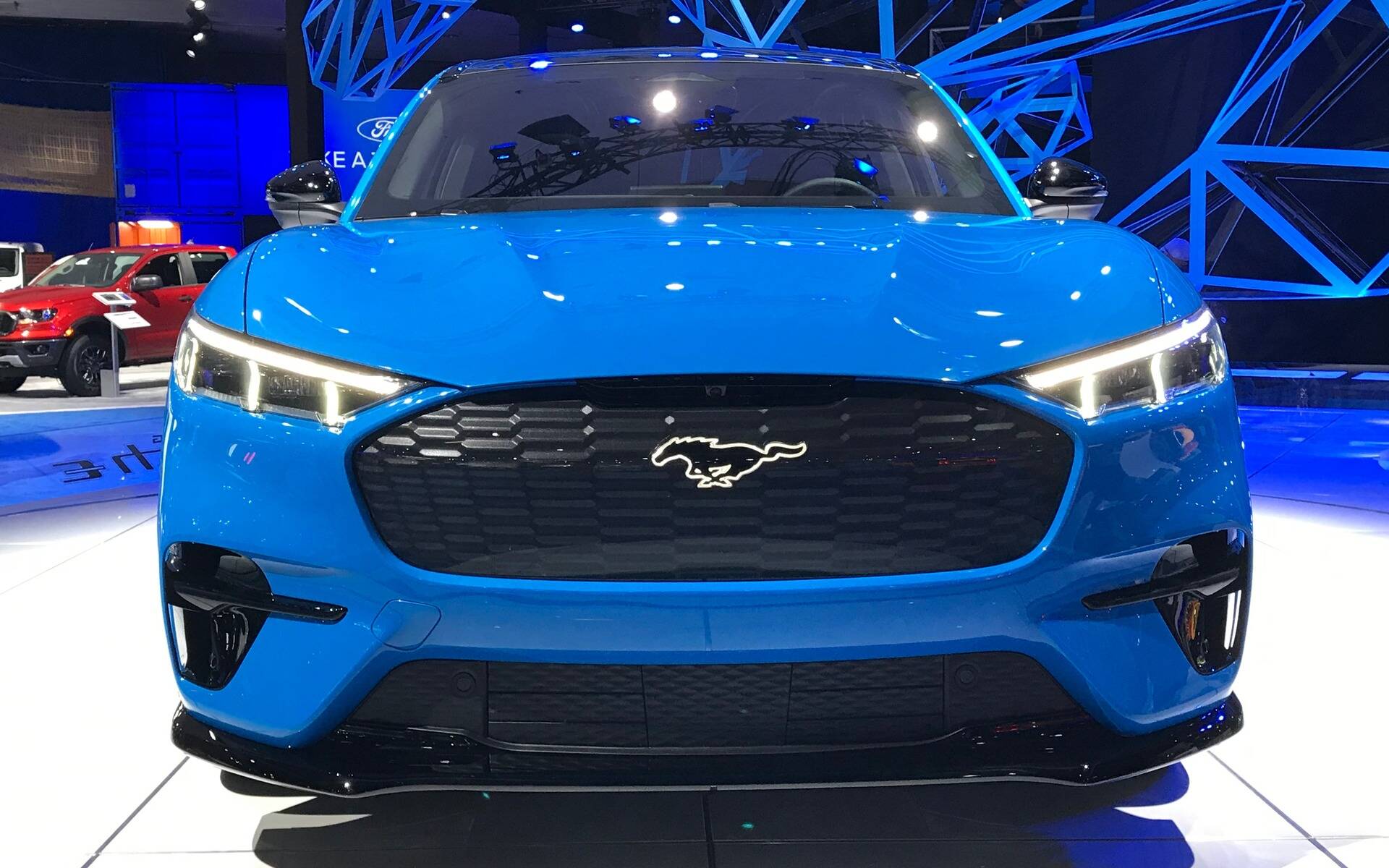 Speaking of horses that run on electricity, the charge port door for the Mach-E is on the front fender. You simply push it in and it opens up. Also on the inside, it says horsepower because this is where you give power to the Mustang horsepower. Now that's going a little far with the pons frankly but nonetheless, it's in there like a little quirk of the Mach-E. Next I want to talk about this cars design a little more generally because there are some important design elements worth mentioning. One such design element is the front. A common design trait shared by all earlier Mustangs has been a long front end in front of the windshield housing a big long hood, and this car has it. The intent here was to kind of pull the front out a little bit to make it look more Mustang-y giving the Mach-E more noticeable design element.
On the side of this car is the roofline which as you can see slopes down in the back. Ford calls this a fastback roofline meant to mimic the Fastback Mustangs of the 1960s and you can see, it slopes down to the brake lights in back. However this is actually a bit of a visual trick because the painted part slopes down in this fastback roofline, like Ford says, but the roof itself actually stays pretty flat. You can see the painted part sloping down kind of conceals the fact that the roof really doesn't have a fastback design to it, instead it's relatively flat like a fairly normal SUV. To some it might look a bit quirky, but it isn't really. And that's important to mention because it means that it's actually pretty roomy back here. When I first saw this car's the sloping roofline, I assumed I would be sitting in the backseat with the roof like right at my head. But that little trick roof illusion means that I can fully sit up in the rear of this car, and still have an inch or two before I get to the roof. And frankly, it's roomy beyond that to the front passenger seat, even when sitting behind it, no problem, your knees aren't even touching this front seat. So this is pretty good rear seat room, especially given this vehicle size. This is excellent packaging, and I'm impressed with how roomy it is back there. The Mach-E much roomier than vehicles that are larger and more sort of family oriented. I'm surprised how much space you get with the Ford Mach-E. Now with that said, other than the room and back, there's not much going on back there. Nothing interesting or unusual or special in the back seats of the Mach-E. Except back to that glass roof. It's even more pronounced back here because you see this entire roof panel. And it just makes you feel like you're in this world of glassy openness. This keeps if from being at all claustrophobic in the backseat. I love seeing this glass panel right above me, you can look out and see the trees in the sky and the stars. And it's a nice feeling frankly.
Next we move on to the cargo area in the Mach-E. To access the cargo area, you simply press the trunk button on the app, hold it down, and then the tailgate opens up to present the cargo area. There's also a little popper under the exterior side of the tailgate handle you can press to open it up as well. But once you're in there, you can see it's fairly wide and fairly flat. However you are hampered a bit in terms of height if you want to put taller items in here because that sloping roofline really does start to take effect in the cargo area, making it a little bit smaller back there. But a couple of interesting items worth noting. One is the floor which starts off in a fairly normal position. However you can also lower the floor and there are two positions for the floor. Once you lower the floor, you have a little bit more space in case you do want to load something taller that you couldn't get in because of the roofline. Also under the floor, there is a bag containing the Chargers that come with your Mach-E which if you hook up to a standard 240 volt outlet, you can get about 21 additional miles of range for every hour of charge. Meanwhile, if you hook it up to the Ford wall charger that comes with this, that'll add about 30 miles of range for every hour of charging which is a little bit faster. Either way, if you're charging at home, it's going to be overnight to fully replenish this cars charge. One other interesting item back there is the cargo cover which is movable. The theory here apparently is that you can stick all your stuff down in the cargo area. But if it starts to overload and get too tall within the cargo area, you can use this area sort of like bins and it still covers your stuff, even if you have a lot back there. So that's a neat idea. I guess it makes sense.
Finally we move on to the Mach-E's other storage area. And that would be up front trunk or frunk. Although frankly, it's kind of a disaster. There's no button you can use to pop it open anywhere actually in front. So you have to go to the key fob, except it doesn't have a front trunk opener button anywhere, meaning that in order to open the front trunk, you got to pull out your phone, just to access this panel. Only problem is there's no front trunk opener on your phone app either. Only the doors, the windows, the tailgate, not the front. The only way into this front trunk is through a latch in the driver's footwell meaning if you want to get in here, you got to walk up to the car, unlock it, open the door, pull the latch coming to the front, and then you can get in. What a a disaster. And when you go to close the frunk, you have to close it really hard because if you don't and you only close it halfway, you can't really latch it unless it's already open and you can't reopen it unless you go pull that latch in the driver's footwell again. It's very badly engineered. It's just a shame that this isn't really all that useful because when you open up this piece, you can see there's actually a fairly large trunk in there. If you've run out of room in the cargo area, or you want a little bit more privacy upfront, it's just a shame that it's so hard to access this front storage area. And so those are the quirks and features of the Mustang Mach-E. Now it's time to get it out on the road and see how it drives.
Driving the Mach-E, the center of gravity is only 1.2 inches higher in the Maki than in the regular Mustang that everybody knows and loves. And that's interesting, because it means obviously, that it should be able to handle sort of similar to the regular Mustang. And what I discovered is, that's kind of true. When you accelerate hard in this car, you do get a sound which you can't turn on or off. But you do get a sound like an exhaust note almost. But it's basically like you can tell I'm going fast. I am pretty impressed with the way this car steers. Steering is very precise, very easy. The little movements do a lot. One thing I'm more impressed with this car about is the way it handles, in other words, the way it actually goes around corner, the way it feels on your body is pretty good. It's better than in the Teslas, there's no question about it. It's certainly better than the model Y. It feels honestly like a little sports car. Like I hesitate to say it because I don't want to add to any marketing or PR stuff. But I'm surprised by how kind of sporty the Mach-E actually feels. When you're driving it and you accelerate hard, it feels good. It's really quick to accelerate no question about that. But then you come to a corner and surprisingly, it's quick. It goes through the corner very fast. I haven't seen this level of sort of EV handling since my Tesla Model S.
The Tesla Model S was the one electric car that proved to me that electric cars don't have to suck. And that car handles well, no matter whether you like it or not, it's it clearly does. This is kind of on that level, except it almost feels tighter, which is a quality that I like in a sports car. I'm surprised to say it but I actually like really like this car. I thought that most EVs up until this point have been kind of dull except for Teslas. However the Mach-E drives quite well. It drives sporty, drives fun, just like the Tesla Model 3 Performance which also drives really well for an EV. The Model 3 Performance is also fun, fast and handles well. But The Mach-E is really close to that or maybe a little better. I know a lot of people are going to be anti the Mach-E because it's not a real Mustang. And I get it. Also you could argue for days about whether or not Ford really should have used the Mustang name in this car. But in terms of the driving experience, in terms of the way this car feels on the road, it can stand on its own, Mustang name or not, it is really excellent. I love the steering. I love the handling. I love the responsiveness. It's also relatively comfortable and very quiet. You know, the problem that I think a lot of people are going to have when they compare this to the Model Y is that the range isn't as good. But I think the reality for most people is whether the range is, you know, 250 miles or 300 miles. A lot of people don't even come close to driving that distance in a day or even a week. So it doesn't really matter all that much when you really think of it rationally. The question then starts to become which one actually is the better car, which has the better tech, which drives better, which looks better, etc.
From what I've seen so far, I think that the Mustang Mach-E makes some huge inroads on Tesla in a lot of these ways. I also think the Mach-E is a better looking car. I think the Model Y looks weird, kinda like a pregnant Model 3. That's not to say pregnancy is not beautiful because it is the most beautiful thin on a woman, not a car. The Mach-E certainly drives better than the Model Y from a handling perspective, although I think the base model is not as fast but the performance version is the same as a Model Y. And as for the tech, I mean, I hate to tell you this Tesla people. I know I'm going to get a lot of flack but this system is really excellent at and you get a gauge cluster screen in the center that you can look right down on as opposed to having to look into the center to see what speed you're going and you get a real volume dial. In addition to one on the Tesla has is that you don't have Tesla's supercharging network which is very important to point out. However Ford with the help of the app that we discussed earlier, which they is called Ford Pass, get you access to see Ford's network for EV chargers and Ford is partner with one or two largest public EV charging companies. It really helps that they're all in the Ford app so you can see what's compatible, what's in your network and the Ford network, and what isn't. It also shows you where you can charge and it shows you the rating of the charging station and even shows you the app photos of the charging station, so you don't have to drive around a parking lot trying to find exactly where the charger is placed. It also shows you photos that users have taken, showing you exactly where it is. Overall I gotta say I'm really impressed with this car.
The Mustang Mach-E I think is the first really tight competitor to Tesla, assuming that Ford rolls out it's self driving program like they say they will. That's important to keep in mind because it's now been delayed six months. It won't change lanes for you, they say, but it will well, do everything else. And you don't have to always tap the steering wheel. Frankly, I would trade the lane changes for the steering wheel because with Tesla's you still do have to tap the wheel. But overall, I would say that this car is really impressive as the first, really, really close Tesla challenger, aside from the Porsche Taycan which is in a totally different price bracket. The Mach-E is an EV that meets Tesla at its dollar value, where it is, and kind of comes with all the goods. I think this is an excellent car and hope it does well because it certainly deserves to. And so that's the 2021 Ford Mustang Mach-E, a credible challenger to the Tesla Model Y. Also I think the Mach-E actually has some advantages over the Model Y. I think the interior is nicer, the tech is a little bit better and it looks better. But it does have some disadvantages to it like the range and the performance for the price point. Still, this is an excellent vehicle and it's very different from every other Mustang we've ever known. Here how I would rate the Ford Mustang Mach-E based on my experience so far.
Starting with the styling: I think the Mach-E looks nice, not beautiful, but it's an attractive take on the typical EV shape. So it gets a 6 out of 10.
Acceleration: I drove the premium model with around 350 horsepower, which does zero to 60 in 4.8 seconds, so it also gets a 6 out of 10. The GT model which is faster is coming soon.
Handling: It's surprisingly excellent for a vehicle like this. However, it's still an SUV and it gets a 5 out of 10. But I debated bumping this up to a 6 for a long time.
Fun Factor: It's pretty good, between the acceleration and the steering and the handling, it gets a 6 out of 10. Again, I'm excited to try out the GT to see if this score can improve.
Cool Factor: I think this car is cool. But the blowback from using the Mustang name has alienated it with some car enthusiasts, which harms things a bit and so it gets a 5 out of 10
Features: The Mach-E is loaded with a lot of great tech but it falls short of Tesla on self driving, which gives it an 8 out of 10. However, Ford says that's coming soon, which would bump up this score.
Comfort: For this segment, I think it's quite as expected and thus it gets a 7 out of 10.
Quality: The Mach-E is excellent, certainly better than Tesla and gets a 7 out of 10.
Practicality: Between the interior room the cargo space and the electric nest, the Mach-E gets a 9 out of 10.
Value: It's a decent value for the price. however given the price in the performance level, I feel like the range should be a bit higher to come closer to Tesla. Thus it gets a 6 out of 10.
I my opinion, the Mach-E is very well placed against it's rivals. However it falls below the Model Y and Model 3 Performance versions. But they are not in direct comparison with the Mach-E Premium I drove. On the other hand, the upcoming Mach-E GT should be the closest rival to those Tesla models. The Mach-E is really the first ultra credible affordable Tesla competitor and I think many drivers will prefer the Ford over it's EV rivals.